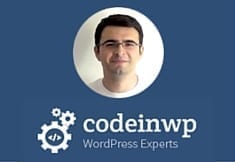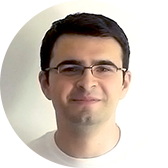 We receive a lot of requests from happy users and marketers who want to share Sendinblue with their audiences. We love it! And we even offer an Affiliate Program to reward those who share!
To help you maximize your results with our Affiliate Program, we're sharing some proven advice from one of our most successful affiliates – Ionut Neagu from CodeinWP.
We've asked him to share his experience and tips for generating real revenue with the Sendinblue Affiliate Program.
Case study: How CodeinWP generated results with Sendinblue's affiliate program
In April 2016, Ionut published this article: Is Mandrill Done? 5 Alternatives for Your Transactional Email. This allowed CodeinWP to garner the first search result position for the Google search "Mandrill alternative".
When Mandrill (The transactional email solution from MailChimp) stopped offering their free plan, this request began receiving thousands of requests per day.
1. You've created your own very successful website – CodeinWP. How did you get started?
I created CodeinWP four years ago after working for many years as a freelancer with a lot of different websites. I've always believed content marketing is a powerful tool for web marketing, but I was not a good writer. It took me some time before being able to use this channel efficiently. To help others with the same challenge, I've shared this list of mistakes to avoid before launching a blog.

In 2014, I started working with another talented writer, Karol, which allowed CodeinWP to produce high quality content. When we don't have the required skills or knowledge about a topic, we include another writer who can improve the quality of that post.
2. How do you choose the topics for your posts?
We write several different types of articles: some related to specific topics, some about the trends of the month, some that highlight our own experience, and other general articles about marketing.

We often write to promote our products and to take advantage of topics with a high potential for affiliate marketing, but we also focus on timely, important marketing topics.
3. You've written a few posts that mention Sendinblue. Why have you chosen to use an affiliate link?
We've written a few articles that talk about Sendinblue because it's a solution that I know well and use for my websites. We actually didn't include an affiliate link for the more than six months, and we were mostly writing articles with tips for our readers. Once we started sending a lot of traffic to Sendinblue, asking for an affiliate link seemed logical. I felt that Sendinblue was a solution that met my readers' needs (free plan, full featured plans, WordPress integration, email editor, etc.). Monetizing our content allows us to invest in other types of content.
4. The above mentioned post was a real success for you. What type of results has this post produced?
When Mandrill announced that they were ending their free plan, I knew thousands of companies would start looking for a free alternative to send their transactional emails. (Mandrill's transactional platform was the leader in its field.)

I immediately contacted Karol and asked him to prepare an article about this. The comparison between different transactional email solutions was very well received by our readers and we managed to integrate the best keywords to be featured on Google for the "Mandrill alternative" search. Then, I shared the article on many websites and forums knowing that the topic had a great impact!

We have received more than 10,000 visits to this article. We have also sent thousands of visitors and hundreds of paid users to Sendinblue. Thanks to this, we'll receive 30% commissions on what these paid users spend with Sendinblue. Sendinblue has renewable monthly plans, so users are very likely to remain on the paid plans for quite some time.
5. How do you explain this success?
I think this success is primarily the result of the long-term efforts we have put into the website. We've focused offering quality content and optimizing our visibility online, so that we can earn Google's "trust".

Second, we took advantage of an important event in the email marketing world. Our opportunistic positioning on a specific subject helped us become very visible in a short time, and generate many new leads and affiliate accounts.

Finally, promoting a solution that I trust is essential for building a relationship with our readers. I trust the fact that Sendinblue will convert my leads and retain these clients in the long run. This model guarantees long-term recurring revenue.
6. What do you suggest to people who are willing to become an affiliate and promote Sendinblue?
For those just getting started, I suggest not focusing on affiliate marketing itself, and rather on creating the best possible content that meets the needs of a spedific audience. There are too many articles online and too many failures owed to a "get rich quick" approach. Affiliate marketing isn't easy and it shouldn't be your main purpose. Try to help people, to build a community and only then – use affiliate marketing to monetize your great content.

For Sendinblue's current affiliate marketers, I recommend learning more about the marketing automation tools that Sendinblue recently launched in public beta. Make videos about Sendinblue Automation, write tutorials, generate some buzz, and teach people about what marketing automation is. There is so much potential in this segment!
Ready to become a Sendinblue affiliate? Click here to apply.
Have a Sendinblue success story of your own to share, or want to learn more about our Affiliate Program? Visit our website or email us directly at affiliates [at] sendinblue [dot] com.