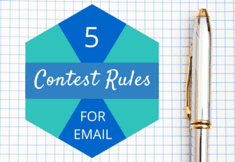 Running a contest for your business using an email marketing campaign can be a great way to generate buzz and engage your audience — but it's important to keep it legal! Whether it's a sweepstakes or a giveaway, be sure that you're abiding by all applicable laws.
We're covering the U.S. Federal restrictions here, however each state has its own rules aimed at protecting its citizens from unscrupulous contest practices (and there are as many nuances in the different laws as there are Acme traps purchased by Wile E. Coyote). To get the most up-to-date information on the laws that will impact your business, we suggest visiting the Attorney General's website for your own state and any state in which your contest will run.
You should always do the work upfront to determine if there are any specific state laws that you need to be aware of. When it comes to national laws, here's what you need to know in order to run a legitimate contest:
1. Make it Free to Play
In the US, contests and sweepstakes must be free to enter. That's why you always hear commercials that say "no purchase necessary" in that typical excited commercial guy voice or see it the fine print. Why is this? The law office of Lewis, Roca and Rothgerber explains it really well:
"Most states have some commonality in the general approach to gambling. Prohibited gambling typically involves any activity in which a person pays 'consideration,' usually money in an attempt to win a prize in an activity determined by chance… If you take away any one of the three elements of gambling – consideration, prize or chance, you generally have an activity that is lawful in most states. A sweepstakes always contains the elements of chance and prize, so the element of consideration must be eliminated to avoid violating the various prohibitions against lotteries."
Now, what is deemed to be "consideration" varies significantly from state to state so this is one place that you really need to do your research to avoid having an Acme anvil unexpectedly fall off a cliff onto your head below!
2. Take Ownership Publicly
Sponsoring or running a contest requires that your business be transparent about their involvement. Concealing who is really running the contest is a big no-no! There's nothing good to come of disguising yourself as a road runner, Mr. Coyote. Use your company's full name on all correspondence regarding the contest and include legitimate contact information in all of your emails. Having your address, phone number, and email address in your email footer is a great way to ensure that your business is being properly associated with the contest.
Another important element to include in your email marketing is a way for recipients to remove themselves from your contest emails. Sometimes your audience can get overwhelmed and end up feeling a little bit like the Road Runner – just wanting to get away from your offers as fast as possible. Having an unsubscribe link is already required in all emails that you send, but having a separate link that will just remove a recipient from contest-related correspondence provides recipients with a choice as to whether they want to stop receiving emails from you all-together or just emails about this and future contests.
Businesses that offer both of these options often find that they lose fewer email list contacts overall because it gives recipients the power to control which types of communications they do and don't want in their inboxes rather than making it an all-or-nothing decision.
3. Include Terms and Conditions
Terms and conditions are an absolutely critical component to any contest because they protect both the business running the contest and the contest entrants themselves by spelling out exactly what everyone can expect. So basically, think of terms and conditions as the helpful sign that the Coyote always held up for the Roadrunner to explain what was coming. (Except those signs were the creations of a zany illustrator and your terms and conditions better be drawn up by someone with a little more legal savvy!)
While most people don't actually read the terms and conditions before signing up for things, they do have to agree to them which makes them legally binding. Just be sure that the terms and conditions that you use have been drawn up by a trusted attorney and have been modified if any changes to the contest rules are made before it goes live.
Attorney Sara Hawkins explains, "Not only is changing the rules often illegal, or, at the very least, a violation of consumer protection rules, consumers (and your competitors) see it as unethical and can expose you for not being on the up-and-up… If you are in a situation where you think you need to change the rules, consult an attorney and ensure you have the law on your side if you were to be sued." Include a link to the contest terms and conditions in your email and/or post the terms and conditions as fine print at the bottom of the email.
4. Disclose Your Partners
In some cases, disclosures will need to be made about endorsements and affiliations when running a contest. (This goes back to the idea of needing to be transparent about who is actually responsible for the contest.)
The reason for this is because contests are run by businesses that are looking to get contact information from people to use later on for marketing and solicitation. If there's a chance that that information could be shared with any other organizations or agencies, each contest participant deserves the right to make an informed decision about whether or not to provide their personal information to the organizations or agencies involved.
So if Wile E. Coyote was running a contest, he should probably disclose his Acme association to be honest and transparent with participants (because, let's face it, he was probably an employee, partner, or authorized re-seller with all of that product he had laying around).
5. Choose a Winner the Right Way
Determining a winner for your contest is closely regulated as well. According to the BBB, "If contests are used, the advertiser must publish clear, complete and concise rules and provide competent impartial judges to determine the winners." This is why many businesses choose to use reputable contest software to house contest entries and select one without bias. Using contest software or a contest management platform allows a business to prove that no consideration went into choosing a winner.
Keep in mind that a "skills-based contest" does not have the same restrictions, so if you're running a competition that pits people against each other on the basis of skills, knowledge, or talent (say the ability to run away from a lit bomb fuse faster than the next fury cartoon guy), you can lawfully give consideration to the winner that is chosen. That is to say, you can pick the best, smartest, funniest, or most awesome person to win your contest.
That's All, Folks!
Remember, if you plan on mailing out information regarding your contest or doing telemarketing to promote it, additional laws will apply (like the Deceptive Mail Prevention and Enforcement Act and the Telemarketing Sales Rule). Abiding by all applicable laws for running the contest will ensure that your business does not face any legal backlash from the FTC. These can range from a simple cease and desist order to severe civil penalties and mandated corrective advertising.
So fire up the fun once you understand the Federal regulations surrounding email contests as well as the state laws governing what you can and cannot do when promoting, conducting, and determining the winner to any kind of contest. Failing to heed these laws can result in lawsuits and substantial financial penalties, which is why contest laws are no joke.
Creating a killer contest and playing by the rules is a winning combination that's sure to succeed!
Keys to Happy Sending
1. Understand the rules before you play the game! (That means all applicable Federal & State regulations.)
2. Remember the point: create a contest or sweepstakes that's fun, engaging and builds your brand.
3. Expand your marketing wisely & consider the legal requirements before expanding contest communications beyond email.
Legalese: This website does not provide legal advice and its provider is not a law firm. None of our customer service representatives are lawyers and they also do not provide legal advice. Although we go to great lengths to make sure our information is accurate and useful, we recommend you consult a lawyer for specific legal advice.