It's that time of year again! The winter holiday season is here, which means it's time to start sending out those holiday marketing emails. To help make your life easier, we've got 25 new responsive holiday email templates to choose from.
To get the most out of your holiday sales, you can now start sending emails that tap into the holiday spirit!
25+ Responsive Holiday Email Marketing Templates
Sendinblue holiday templates are beautifully themed for Thanksgiving, Black Friday, Cyber Monday, Christmas, winter holidays, and New Years. Build the perfect email in minutes — start with the template that's perfect for your call-to-action:
Send holiday greetings
Promote your holiday sale
Inspire shoppers with holiday gift guides
Send shipping deadline & holiday hour reminders
Drive traffic to your holiday contest
Want to see all the templates? Log in to your Sendinblue account!
Christmas email templates
Whether you're sending a Christmas newsletter, or you're promoting special discounts for the holiday season, Christmas is a crucial time for eCommerce merchants — and shoppers too! That's why it's important to develop an email content and design strategy that takes advantage of this intense period of online shopping.
As Christmas approaches, shoppers are particularly sensitive to certain elements of your campaigns, including:
Special deals and discounts
Gift ideas
Practical information about shipping
👉Log in to Sendinblue to find 6 Christmas email templates
Black Friday email templates
Black Friday is the be-all-end-all sale for most (if not all) retailers. It marks the beginning of the Christmas holiday shopping season, and is characterized by massive crowds, huge discounts, and exclusive offers.
To take advantage of the attention generated by Black Friday — and to amplify your sales — you can send your customers a Black Friday email campaign detailing your most popular promotions using our Black Friday email template.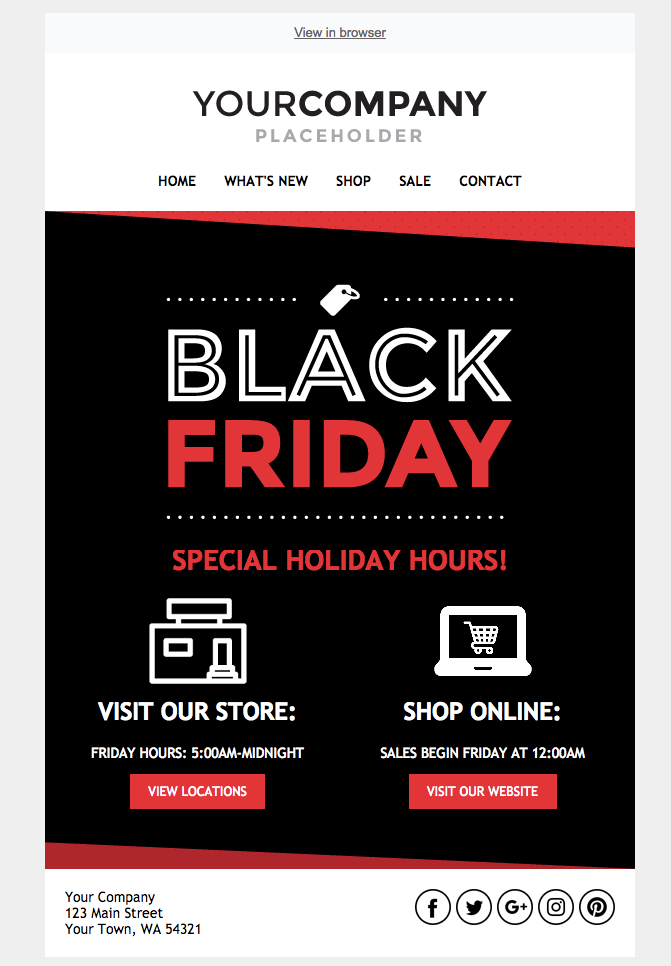 👉Log in to Sendinblue to find 4 Black Friday email templates
Cyber Monday email templates
What Black Friday is to retailers, Cyber Monday is to eCommerce merchants. It's the internet's largest sale and it takes place on the Monday following Black Friday.
So, make sure to be prepared when you're notifying your customers about all of your awesome deals with the right emails!
👉Log in to Sendinblue to find 4 Cyber Monday email templates
Thanksgiving email templates
While it doesn't have quite the shopping implications as Christmas or Black Friday, Thanksgiving is still a great opportunity to reach out to your customers.
You can create Fall holiday-themed promotions and special offers to surprise your customers. That's why we came up with a few Thanksgiving email templates to make even easier.
👉Log in to Sendinblue to find 6 Thanksgiving email templates
New Years email templates
With all the excitement around Christmas shopping, it can be easy to overlook New Year's celebration.
This is an excellent opportunity to connect with your customers and wish them a Happy New Year with a personal message from your brand. You can also take the time to talk about what's in store for your business (and consequently your customers) in the coming year.

Log in to Sendinblue to find 12 templates for New Year's and other Winter sales
Using Responsive Email Templates in Sendinblue
Ready to create designs that engage and convert?
Just log in to your Sendinblue account and create a campaign. Once you reach the Design step (#2 out of 4) of the campaign creation process, you have a few options to start building your email design. Choose the "Template Gallery" tab to explore all of the handy templates designed with you in mind!
Each template is built with design blocks that are fully editable and customizable based on your needs. Drag and drop the blocks, add your own text and/or images, and even change the fonts and colors! You can truly make each template your own masterpiece.
Lastly, be sure to customize any buttons, images and social media icons with your own links. Many templates include unique social media icons and it's easy to add your links! Simply click the appropriate design block, click on the icon, and click the "Link" button to customize your destination URL.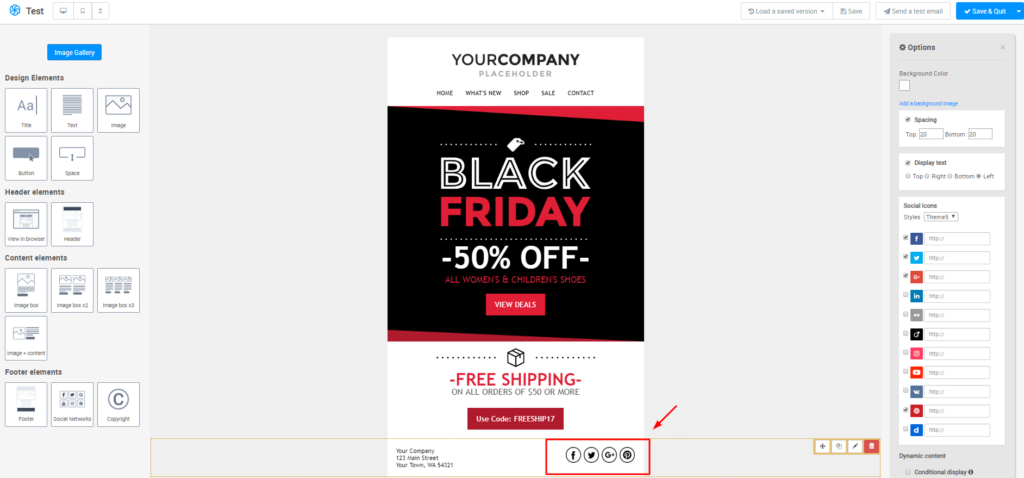 Here you'll see links like this one: https://www.facebook.com/. Simply update the URL to link to your social media page and voila! For example, we would update the URL to link to our own Facebook Business Page: https://www.facebook.com/sendinblue.
If these templates aren't enough for you, there are many other places to get even more free HTML templates online. Get inspired, unleash your imagination, and create the perfect email campaign for your holiday marketing strategy!
If you want more content like this, subscribe to our newsletter and follow us on Twitter!