Growing Your Email Contact List
Learn how to grow your email contact list with a convincing signup form and 10 additional tactics to attract more recipients! You'll also learn the role of welcome emails in your email marketing strategy and which mistakes you should avoid when creating them. This is the fifth module of our Email Marketing Course in our brand new Sendinblue Academy.

41 Minutes
11 Videos
4 Questions
10 successful tactics for growing your email contact list.
How to create an eye-catching signup form with Sendinblue.
Welcome emails and the common mistakes to avoid.
Designing Your Signup Form
6:39 min
Using an eye-catching signup form with a good value proposition is the best way to sustainably grow your email list! In this video you'll learn about the different reasons why people sign up for a newsletter so can choose the right text and offer to include in your signup form! If you don't want your contacts to just subscribe so they can get a coupon or giveaway, and you prefer building a longer lasting relationship with them, this video has the right tips for you.
Signup Form Positioning
3:03 min
Growing your email contact list isn't just about having a convincing signup form… You also need to make sure your website visitors can find it. It should be readily visible in as many high-traffic areas of your site as possible (and places outside of your site as well!). In this video, we'll show you all of the places you can put your signup form in order to get the maximum amount of subscribers!
More Tricks to Grow Your Email Contact List
2:19 min
There are a lot of tactics beyond a simple signup form on your website that can help you grow your subscriber list. In this video you'll learn 10 new tactics that will help you easily grow your email list. And the best part? For most of them, it's completely free! Let's dive in!
Creating a double opt-in email with Sendinblue
2:15 min
One of the most important elements of a GDPR-compliant email marketing strategy is setting up a double opt-in process for your newsletters! In this tutorial, you'll learn step-by-step how to build a double opt-in email with Sendinblue!
Creating a signup form with Sendinblue
6:11 min
After learning all the tips and tricks of a successful signup form, now you're ready to start putting your strategy in motion. In this tutorial, you'll learn how to create a signup form with Sendinblue in a step-by-step walkthrough.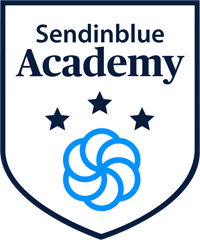 Ready to put your email marketing skills to use?
Create your free account at Sendinblue and prepare for takeoff!
Sign up free
Extra Tip: Welcome Email
4:24 min
Welcome emails are automated emails that get sent out right after a contact has confirmed their subscription to your newsletter. They typically have an open rate of 50-80%! That's why you shouldn't waste that potential! In this video you'll learn the best practices and mistakes that you should avoid when setting up a welcome email.
Creating a Welcome Workflow in Sendinblue
4:36 min
Get to know Sendinblue's powerful Marketing Automation feature! In this tutorial, we'll show you step-by-step how to create a welcome workflow in your Sendinblue account. It's the first look into our Automation feature that you will learn more about in our upcoming Marketing Automation Course!
Using the Profile Update Form
1:11 min
Find out what you can do with a profile update form to improve your email marketing strategy. This form is a way of asking your recipients for more information, preferences, and data in order to improve segmentation and send more relevant content. In this video, you'll get to know all the use cases for profile update forms!
Creating a Profile Update Form with Sendinblue
4:36 min
Now that you understand when you should use a profile update form, it's time to learn how to create one! In this tutorial, you'll learn how to build your own profile update form so you can ask for new or updated information from your contacts to better segment your campaigns in the future!
The Ideal Unsubscribe Process
1:43 min
What is the ideal unbsubscribe process in email marketing? You might think it's bad if contacts want to unsubscribe from your newsletter. But, there is also some good in this situation. We'll explain why in this video.
Creating an Unsubscribe Form with Sendinblue
2:51 min
In this tutorial you'll learn how to build an unsubscribe form in Sendinblue. This is useful if you want to add an unsubscribe form to your website or link to it from your other marketing channels.
Time for your quiz!
Let's test what you've learned in this module.
Take the quiz
Ready to get more expert knowledge?
OR