Managing Contacts & Segmentation in Email Marketing
Learn how to use segmentation effectively by managing customized contact attributes and build an automation lead scoring funnel. In this module we will guide you step-by-step through the contact management in Sendinblue so you can take the most out of your email marketing. This is the fourth module of our Email Marketing Course in our brand new Sendinblue academy.

39 Minutes
10 Videos
4 Questions
Manage your contacts in a structured way within your Sendinblue account.
Learn what data you need from your contacts to be able to segment them more effectively.
Implement an automated lead scoring system to nurture leads into paying customers.
Contact Management in Sendinblue
1:42 min
Email marketing software usually includes a clearly arranged set of contact management tools, and Sendinblue is no exception. You can filter and segment your contacts, organize them into lists and folders, and easily add or update contact attributes. In this video you'll get an overview of all the different capabilities of Sendinblue's contact segmentation tool.
Engaged & Unengaged Contacts in Sendinblue
1:55 min
To ensure a good delivery rate, it's really important to have a clean contact list. If you don't want to delete your inactive contacts, or "unengaged contacts," Sendinblue offers a feature to easily exclude them from your email campaigns by applying the filter "Don't send to unengaged contacts." In this video you'll learn how to set the criteria for the unengaged contact filter.
Validated and Flagged Contacts in Sendinblue
1:55 min
In this video you'll learn the difference between validated and flagged contacts. You can only send out your email campaigns to validated contacts which are marked in blue within your Sendinblue account. If a contact is marked in red or grey this means they are flagged and cannot be contacted. Learn more in the video!
Blacklisted Contacts in Sendinblue
2:58 min
If a contact doesn't want to hear from you anymore, they might unsubscribe from your email list. From then on, they are marked as "blacklisted" contacts. You can also manually blacklist a contact yourself if you want to avoid sending to this specific contact again. Learn everything you need to know about handling blacklisted contacts within Sendinblue.
How to Manage Lists in Sendinblue
2:59 min
Use contact lists within your Sendinblue account to organize your contacts in a structured way! Any contact can be present in multiple lists, which can then be grouped into various folders. This way, you'll have a full overview of your contacts and can segment them more with more granularity and effectiveness. In this video you'll learn how to manage your contact lists in Sendinblue.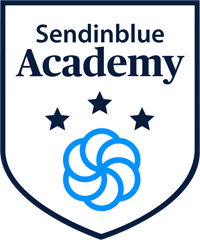 Ready to put your email marketing skills to use?
Create your free account at Sendinblue and prepare for takeoff!
Sign up free
Segmentation in Email Marketing
9:56 min
Good segmentation is the key to success in email marketing. To fully understand the topic and know all segmentation options, we have created this video for you. We explain how to segment your contacts in a meaningful way and how to get more data from them to make your marketing messages even more relevant.
Segmentation & Filters in Sendinblue
4:24 min
As explained in the previous video, one of the keys to success in email marketing is good segmentation. In this video, we'll show you how to properly segment your contacts in Sendinblue, as well as how to use filters in order to provide a more personalized experience for your contacts. You'll see just how easy it is to do advanced segmentation in Sendinblue!
How to Create Customized Contact Attributes in Sendinblue
2:59 min
In order to segment your contacts in a meaningful way, you need to have data on your contacts. This data or information can also be referred to as contact attributes, and they include things like gender, product interests, or preferences newsletter frequency. You can create custom attributes in your Sendinblue account according to whatever information you need. Choose between different attribute categories, for example a number (e.g. number of purchases), text (e.g. name), boolean (e.g. is already a customer), category (e.g. favorite product category), or date (e.g. date of last purchase).
Lead Scoring in Email Marketing
7:11 min
Email marketing is perfect for lead nurturing, i.e. adding several communication touchpoints with more information to move a contact closer and closer to a purchase decision. In this video we will explain the AIDA model and how you can build a lead scoring model in the best possible way.
How to Set Up Lead Scoring in Sendinblue
2:07 min
In this video we will guide you step-by-step through the process of implementing an automated lead scoring workflow inside your Sendinblue account. This will allow you to nurture your leads in a more effective way. First, we will create a customized attribute for the lead score, then we will build an example automation workflow to demonstrate the concept lead scoring.
Time for your quiz!
Let's test what you've learned in this module.
Take the quiz
Ready to get more expert knowledge?
OR